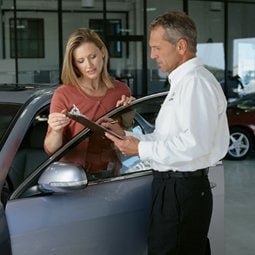 Welcome to Our Service Department
Ford Services from Your Dependable Dealer in Walterboro, SC
Ford's Impact on Customers
Ford is a brand that utilizes domestic business ethics to ensure good relationships and quality interactions. This is why Ford customers are trusting Walterboro Ford to provide the best services for their Ford vehicles in the Hampton area.
Each Ford was crafted to promote durability and efficiency. This is why the brand has a successful business reputation that has won over supportive customers.
Services That Make Driving an Inspirational Experience
Every car needs proper maintenance to ensure that each part of the mechanism runs efficiently. This is a fact that intelligent drivers have benefited from to prolong the functional abilities of their vehicle. Many different services may be required to ensure that your vehicle is getting the needed help.
This is why drivers are using services from Walterboro Ford near Jacksonboro. Specialists are available to provide their knowledge and expertise for the best outcome. Each specialist has the knowledge needed to provide your vehicle with a customized approach that gets straight to the point. This allows drivers to experience minimal downtime and more time being productive on the road.
Ford emphasizes the importance of vehicle health and maintenance schedules. This means that you can depend on our new Ford dealership in Walterboro, SC, to give you an accurate assessment that educates you about your vehicle and how it should be taken care of.
Your Opportunity to Improve Your Vehicle
Contact our team to gain more information about your vehicle's health and Ford services that you can benefit from. Walterboro Ford works to provide you with service plans that could help you pay for future oil changes and other mandatory procedures. Don't miss out on your opportunity to contact the best Ford service provider that is willing to give you access to valuable Ford accessories and more.